Dental Implants – Winchendon, MA
Creating Complete Smiles from the Roots Up

Undergoing dental implant surgery shouldn't require you to drive across town to get the care you need. Dr. Hakwati is pleased to provide start-to-finish dental implant placement and restoration in-house here at Unique Dental of Winchendon. By keeping you in one convenient location to replace your missing teeth, you can rest assured that you'll receive the same great care from those you know and trust. We'll remain with you throughout the entire process, ensuring that you feel at ease before, during, and after dental implant placement. To learn if you are a good candidate for dental implants in Winchendon, call our office to schedule a consultation.
Why Choose Unique Dental of Winchendon for Dental Implants?
Start-to-Finish Dental Implant Placement
Weekend & Evening Hours Available
Dentist with Advanced Training & Experience
What Are Dental Implants?
While other tooth replacement solutions are only capable of restoring the visible crown above the gumline, dental implants are titanium posts that restore teeth from the roots up. Placed within the jawbone, they fuse over several months to create a supportive base for customized restorations.
As a versatile restorative option for tooth loss, dental implants can easily replace a single missing tooth or an entire arch if necessary, and they're known to last decades, and in some cases, a lifetime.
The 4-Step Dental Implant Process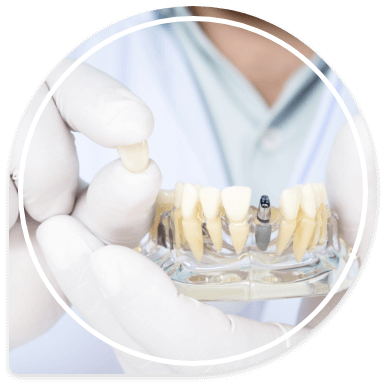 Initial Dental Implant Consultation: To know how you can best proceed with dental implants, we will meet with you for a scheduled consultation. This will allow us to determine if you require preliminary procedures before undergoing oral surgery.
Dental Implant Surgery: As a dental office that places implants, we'll ensure you are comfortable before the surgery using local anesthesia. We'll make a few small incisions to place each implant before closing the tissue and placing healing caps over the areas.
Dental Implant Osseointegration/Abutment: Once everything is complete, you will return home to rest. Osseointegration must occur within 4-6 months before you can return so that we can have your metal abutment(s) placed over the tops of the implants.
Delivery of Dental Implant Restoration(s): Whether it is a crown, bridge, or denture that you need, our lab technicians whom we partner with will ensure it fits perfectly and looks beautiful.
Benefits of Dental Implants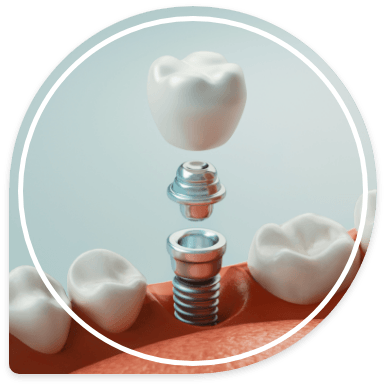 If you compare dental implants to other tooth replacement solutions (i.e., dental bridges or dentures), you will find various advantages that make them the preferred choice among dentists and patients. Millions of Americans have already identified and are enjoying these benefits, some of which include increased longevity (decades or even a lifetime), improved oral and overall health, the ability to eat all types of food, greater confidence, restored bite force and chewing power, and a more natural and lifelike appearance.
Who Dental Implants Can Help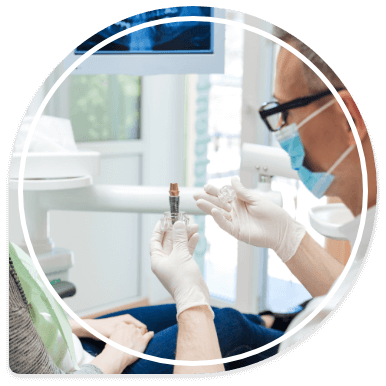 Those suffering from tooth loss can enjoy life with dental implants. Although dental implant surgery may be immediately available for some, others may require bone grafting, gum disease treatment, or tooth extraction first. No matter the path you are recommended, you can expect to enjoy a complete, permanent smile in the future. And the best part is that dental implants can restore any number of missing teeth.
Missing One Tooth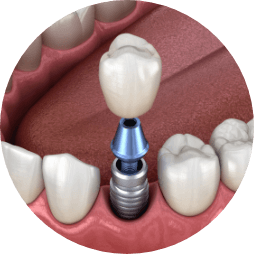 If only one tooth is missing, you can count on us to replace it with a single dental implant. The titanium post will be positioned within the jawbone before a metal abutment, which is an appliance that connects the restoration with the implant, and a customized dental crown is placed on top.
Missing Multiple Teeth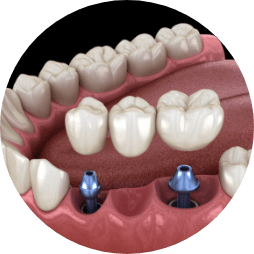 Instead of relying on a fixed bridge that requires abutment teeth to serve as anchors, we can place two dental implant posts into the exterior sockets. Once fused with the bone tissues, we will place metal abutments and an implant bridge to fill in the gaps and restore your smile.
Missing All of Your Teeth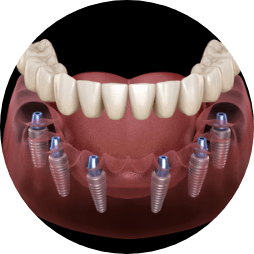 Using between two and six dental implants, we can apply a customized implant denture on top to effectively restore an entire arch of teeth. As a result, your smile will look and act normal, allowing you to eat your favorite foods, smile with confidence, and speak without fear of slurring your words.
Understanding the Cost of Dental Implants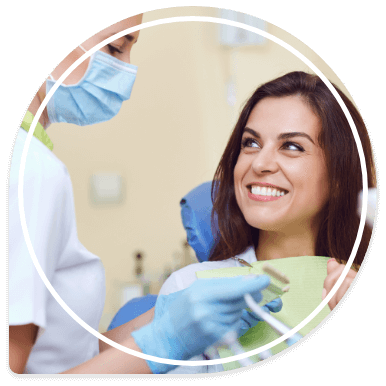 As you prepare to begin your journey with dental implants, you may begin to wonder about the cost. An important reminder is that your treatment expenses cannot be formulated until you schedule a consultation with Dr. Hakwati. After careful consideration of your oral and overall health as well as your jawbone density, we will be able to identify how much we can expect your care to cost so that you can better prepare for the financial obligations that come with a fully restored smile.